Artwork adds a personal touch to any space in your home. It can also add a sense of balance, rounding out a room and giving it a final polish.  However, this look of harmony can only be achieved when the artwork is hung correctly. So how do you do that?
Well the solution is actually fairly easy. It only involves a bit of math. Once you've got the secret down, hanging wall art will feel like a breeze, and you will be on your way to creating gallery worthy walls.
Ready for the secret?
Always hang your artwork at 57″ on center.
This means that the center of the artwork comes to a height of 57''.
This height is ideal because it represents the average human eye-height and is the standard height for artwork in many galleries and museums.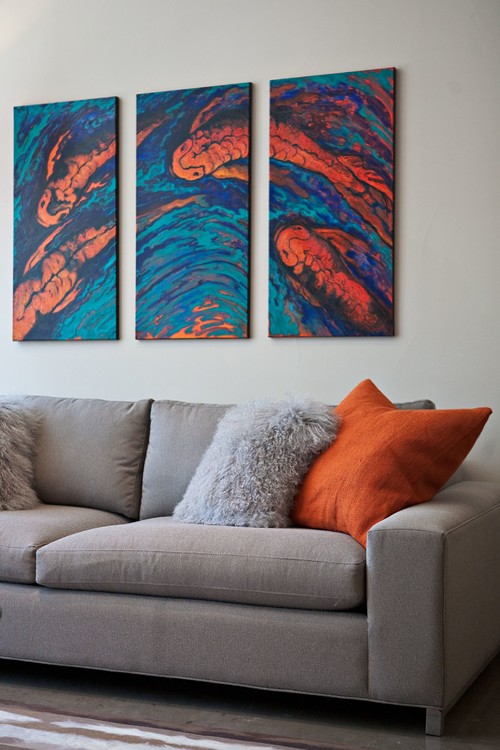 But interestingly enough, 57'' on center tends to be a lot lower than most people hang their artwork. Often times homeowners misjudge and hang their artwork at a level that requires viewers to crane their necks.
In addition, when artwork hangs at 57" on center, the other elements in the room have a closer relationship to each other. It creates a sense of harmony with all the other pictures in your home as well, as they all will share the same center point.
Directions for hanging the artwork
1. Measure and lightly mark 57″ on the wall
2. Measure artwork and divide by 2 to find the center point
3. Measure from the top of your picture to the point at which your wire stretches most tight. This is essentially the point where the hook will hang.
4. Subtract this amount from 1/2 the height of the picture. This will tell you how far above 57″ your hook should go. For example: If your picture is 20" tall and the hook point comes to 3" below the top of the picture, you will want to place your hook 7" (20/2 – 3) above the 57" measured mark.
5. Lightly mark the wall at this height. This is where you will place your hook.
Related: How to Decorate with Pantone's Color of the Year
Other Rules to Keep in Mind
Groups of Artwork
Keep in mind the 57″ rule also applies to groups of artwork. You'll need to think of the group as ONE picture. To do this, arrange how you want them to hang by laying them out on the floor. Find the center picture or pictures and get them at 57" on center as you would with any other single piece of artwork. Once you have placed this piece of art you can then surround it with the rest of the group. 
The Right Hardware
In order to keep your artwork hanging where it should, you will also want to have the right hardware to hold it in place. The type of hook you use will depend on the weight of the piece as well as what kind of hanging device is already on the piece (wire, sawtooth hanger, etc.) Adhesive  strips work very well for lightweight pieces. Heavier pieces will require something more supportive such as metal screws or hooks.
Relate the Art to the Size of the Wall
What will you be hanging the art in relation to? Is it between two windows or above a buffet table? Measure the distance between these two reference points and divide by two to find the center point. Smaller pieces work best for narrow walls and larger pieces look best on big wall spaces.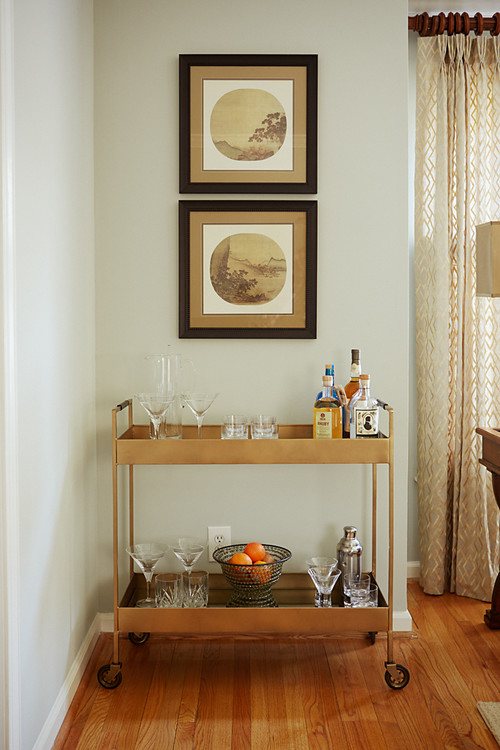 Bill Beazley Homes specializes in building new homes across the Augusta, Georgia area. For more information about available inventory, call 706-863-4888 or contact us here.