It's spring time again. The world is mud-luscious and puddle wonderful, and it is time to revamp your home for the season!
Bring some of that beauty from the fresh outdoors to your interior, by selecting colors and prints that say, "look at me." Lively springtime motifs such as floral make for an easy transition into umbrella season. But if you're not such a floral fan, don't fret. There is plenty on our list of springtime decor for everyone!
Welcome the new season by bringing spring into your space with these ten easy home decorating ideas from Bill Beazley Homes.
Spring is Knocking
It is the rainy season, so you may want to invest in some rubber boots, and while you're at it a rubber doormat too. Make sure you get one that is durable and mildew-resistant, yet will still be a decorative statement to add to your front door. You can personalize the mat with your family's name or a happy welcome message to greet your guests before entering.
Getting Lucky with Lavender
A set of plush towels in a fresh new color is a sure fire way to give your bathroom that springtime feel. And the color lavender just sings of spring. Indulge your guests with different hues from the lavender family for an even fresher look. Add an aromatic sachet or pomander for that final touch.
Related: Bill Beazley Homes' Spring Home Maintenance Checklist
Give your Bookcase a Spring Makeover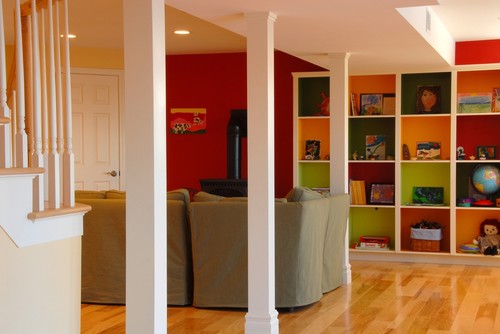 We all know spring is a great time to give your home a thorough cleaning, so don't forget to de-clutter your bookcase. Organize the knick-knacks, and stow away the extra clutter to give it a clean look. Sort books by size and subject, lining some vertically and some horizontally.
And while you're in the process of clearing away, you might as well paint the inside of the bookcase too. Paint the inside and back of your bookcase in a subtle yet contrasting color to make what's inside pop!
Dress Up Your Walls
Wallpaper can be an easy way to update a room and breathe new life into it. Peel and stick options make the job easier. There is even removable wallpaper available, which can make changes in the future a cinch.
Paint It On
A gallon of paint goes a long way. It's one of the easiest and most cost-effective tools for changing a space, and the impact can be dramatic. For spring time, choose a color that makes you feel happy. Paint an accent wall, paint the whole room, paint the ceiling, or paint the door! Spring is about having fun!
Mix and Match
Spring is the most eclectic of all the seasons, so don't be afraid to get a little funky. Mix up your space by incorporating different elements such as citrus colors, bright vases, spunky pillow patterns and flea market treasures.
Stick To It
Simple updates are often times some of the best updates, and it doesn't get any more simple than peel-and-stick wall decals. Like paint, they can have a dramatic effect in a room, and they can be switched out with ease.
Spruce Up Your Windows
After you spring clean those windows and have them shining, pick a fresh new window treatment to highlight them. Use a pretty, floral pattern to turn the window into a piece of art.
Make Something Old New Again
Tis the season for DIY crafts and giving old furniture a second chance at life. Find an old tired brass chandelier at a thrift shop or antiques store and spray paint it the color of your choosing. Or reinvent an old desk by giving it a fresh coat of paint.
If All Else Fails, Add Something Green
With all these fresh flowers blooming it would be a pity not to bring a few indoors. Flowers give an instant face-lift to any space. So go ahead, arrange a bouquet for the living room, bedroom, dining room, bathroom… If you still have a fear of flower arranging, it's time to conquer it. Choose a single color or bloom, cut them short, and place them in short rounded pot or vase. As a rule of thumb, buy twice as many as you think you should —there's no such thing as too much of a good thing.
Bill Beazley Homes loves helping homeowners with their seasonal decor. For more homeowner tips, follow us on Facebook. We make regular updates.
For more information on Bill Beazley Homes call us at 706-863-4888 or contact us here. We offer new homes for sale in the Augusta and Aiken area.
Featured Image: Transitional Bedroom by Brooklyn Architects & Building Designers Neuhaus Design Architecture, P.C.