Featured Image: Gregg's Mill Model Home
Looking to switch up your kitchen, office, or playroom by adding a hint of creativity? Why not try chalkboard paint?
At this point, chalkboard paint is certainly not a revolutionary decor trend, but it's also not going away any time soon. Chalkboard paint is a popular design choice because of its versatility, durability, and its ability to transform any room into a unique work of art.  
… I mean, you get to DRAW ON THE WALLS (and/or refrigerator, tables, and accessories!) Do I really need to say more?
Don't worry about the clean up. Chalkboard paint is 100% washable. Just grab a clean damp cloth or paper towel, clear away the old chalk, and you have a brand new canvas to utilize in any way you deem fit. Cleverly placed chalkboard paint means you have a handy space for calendars, schedules, shopping lists, notes, reminders, and more. Or paint the lower half of the wall to give your pint-sized Picassos a special place to go when inspiration strikes.
If you are interested in creating a colorful, functional chalkboard in your home, here are the steps you need to take.
Steps to Painting with Chalkboard Paint
First, prepare the surface. Walls made of plaster, metal, wood, brick, drywall, and concrete all work well. Once you've selected the space for your chalkboard, clean the surface completely with soap and water and repair any protruding nails or other imperfections. Some surfaces require a primer or additional preparations. You may want to talk with the paint-area associates in your local home improvement store to help you identify the best products and tools to prep your surface. For example, a bonding primer is recommended when applying chalkboard paint over plastic. Metal surfaces should be cleaned with an oil and grease emulsifier before applying chalkboard paint and shiny metal surfaces should be lightly sanded first for the best results.
Once you've cleaned and primed your surface, the next step is to measure and apply painter's tape around the chalkboard area. The cool thing about chalkboard paint is that you can make it any size you want and anywhere you want. Just make sure the tape is level and to your specifications before you continue to step three.
The third step is to apply the chalkboard paint. Follow the manufacturer's recommendations for the number of coats and curing times. Using a brush or roller, apply the chalkboard paint within the taped-off area.
Finally, remove the tape after the final coat dries to reveal a nice crisp edge. Ensure lasting durability by allowing the painted area to cure for three days before using it as a chalkboard. Then, prior to initial use, rub the entire surface with a piece of white chalk. To give it an extra personal and polished look, we recommend using a decorative molding or a colorful painted border around the perimeter of the chalkboard surface. You may also consider attaching a ledge or canister at the bottom of the painted space to hold your chalk.
Chalkboard Paint Ideas and Inspiration
There are a 101 ways to use chalkboard paint in your home (and not all involve furniture.) Read on to find out what ideas we love best of all.
Use chalkboard paint in children's rooms. Just be sure to make your chalkboard low and large enough so that younger children can reach it and have ample space to write or draw.
Use chalkboard paint in your office or study. Paint a chalkboard calendar with squares for dates. Then update your schedule whenever you like.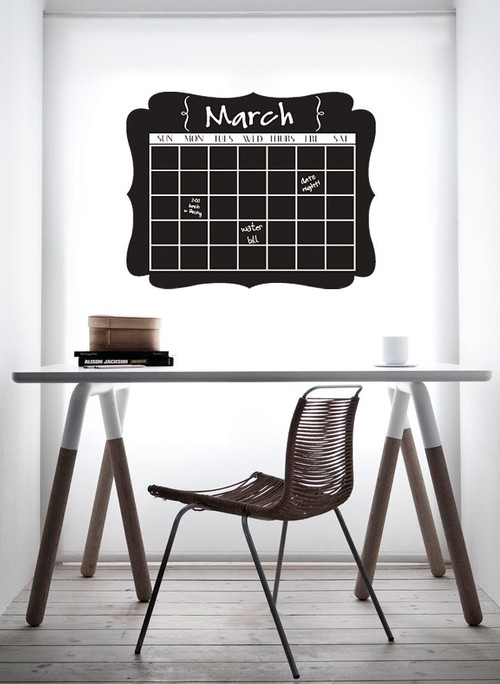 Use chalkboard in the kitchen for shopping lists, phone messages, entertaining ideas, and recipes.
Think Beyond the Walls…
Use chalkboard paint on a child's table to write on when doing homework.
Use chalkboard paint on the base of your wine glasses for easy identification when you are entertaining. 
Use chalkboard paint over old, tired Christmas ornaments to spruce them up, and add special holiday messages.
Using chalkboard paint over accessories such as spice jars and storage boxes makes them easy to label and great Christmas gifts.
Bill Beazley Homes enjoys helping homeowners discover decorative interior design trends. Bill Beazley Homes is the leading choice for new home construction in the Augusta metro area. To contact them, call 706-863-4888.
You Might Also Like